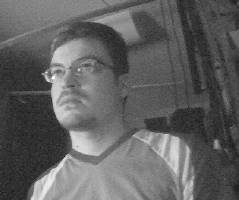 fullname: Emil "Nobs" Obermayr (yip, yes, right: My family is coming from Bavaria!)
living in Albstadt-Onstmettingen in my house.
Height: 1,83 m
Mass: 100 kg ("Waschbärbauch&quot ;)
You can reach me by E-Mail: nobs AT tigress.com
Of course you can also reach me by telephone, fax, snail-mail or personally. Ask by E-mail for further infos.
navigation bar in a frame ON
News
history
born 1967-08-11 in Tauberbischofsheim. (if you want to make a horoskop for me: birthtime was around 22:00 local time; closest moon-quarter was first quarter the next day at 20:45UT about in the middle between the 2 eclipse periods of that year)
one brother Carsten, born '69
grown up in Gifhorn, 30 km north of Braunschweig
visited schools in Gifhorn
started studying physics in Braunschweig in 1987
moved to Braunschweig 1989
moved to Kiebingen 2007.
moved to Ebingen 2008
moved to Onstmettingen in 2013

First some german lyrics about my nick:
Mein Name ist Nobs
und wer mir was will, geht hops!
Doch bin ich gar nicht so verwegen,
ich sag das nur des Reimes wegen. ;-)
Hobbies and interests
(most of the links are in german):
Earning money as system-, network and database-administrator, programmer and electronic developer, system analyst.
studied physics at Technische Universität Braunschweig TUBS. I did my diplom thesis at Physikalisch-Technische Bundesanstalt PTB. My job was about active probes for a scanning nearfield optical microscope SNOM or NSOM.
I was active in the students union: Fachschaft Physik and AStA.
mathematics; playing with numbers and formulas is fun from time to time; did you know 33+43+53=63 (in memoriam Fermat)? Read my thoughts about the four color problem in german.
electronics; all I need at home and for studying, around computers and some more for fun and education. If you want something to know about electronics have a look at the ChipDir! I have a Metex M-4660M and wrote a little TCL-Script for it.
programming; mostly C++ (really enjoying the simple improvements of "++" like IO-streams, templates and constants and finally got used to the class-concept) but also PASCAL, FORTRAN 7, some BASIC-dialects (HPBASIC is cool!), some macro- and script-languages like awk, sed, lex, yacc and just learning perl. HTML-coding is also a favourite hobby of me. But as you can see here, I can't find the time to do it with my own pages. The technical side of the tigress-layout is my baby, e.g. I try to get along with everything helping me to make the computer what I want him to do. And now, tada, I have my own software project: histofile, hosted by
. It shows the number of occurences of each byte value in a file and will draw some conclusion about the type of file in the future. Another project: a VPS decoder that reads your TV-tuner under Linux: vpsdecode
the Internet; making computers ready for the Internet, mainly PCs with Windows; PPP and Ethernet. I also work with Sun's (Ultra-) Sparks at work. I got used to HP Apollos and their PA-RISC-sequels running HPUX and freeBSD. The adress of my personal computer is nobs.furry.de. I have a several PCs running different flavours of UNIX (mostly Linux) and DEC Alpha currently in cold standby. They are connected via switched Fast-EtherNet. The external network conection is done by T-DSL (6MBit/s flatrate dial up). ISDN card is used for fax and answering machine. My 14k4-voice/fax-Modem is in cold standby as well. If you seriously use a Hayes type modem you can have a look at my list of AT codes. If want to know more about my system and the software I use, click here Need a list of the error-log messages of the Apache-web-server? Look here.
I'm very excited about the possibility of getting lots of information, education and recreation fast and cheap: Free flow of information! (or informadness, as some say). On Usenet I was active since 1989 or so and still but today the web seems to be the future. I'm IRCing on the furry FurNet-channel #pantherchat.


------ BEGIN GEEK CODE BLOCK --------------------------------------
 Version: 3.1
 GS d-(+)@ s:+ a C+(++++)$@ ULHC(++++)$@ P>+ L+ E W+++ N++ o? K--?
 w+(++)$>+++ !O !M !V PS++ PE Y+ PGP>+ t++ 5+ X+ R tv+ b+ DI? D G
 e++(+++)>+++ h r+ y+(++)
------ END GEEK CODE BLOCK ----------------------------------------


Wolves/ Furry Fandom Cuddle-piles, hugs'n'fluffs, comics like Pti'Luc's Miasma Blues and Masashi Tanaka's Gon, other arts, pics, movies and the whole furry fandom like Furry Muck, the YiffNet and the Cons. Other comics like Asterix and Calvin and Hobbes find my interest, too. I tried to draw a bit and I scanned and finished some other draws. I managed the german New Years Eve meeting SylCon.
The pics on the left has been drawn by Lutra, Kyo and below a sketch of Nimbl. The ones on the right are from Moon-Hare, that below from Cairyn und the third is from Tronak. Thanks to artist *wolfhug*!
If you like photos of wolves, have a look at Akita's page. If you like wolves have a look at the wolf-ring to find lots of infos about them. A lots of further furry information you can find over my list of furry servers.
Alter ego at the furry fandom, especially in YiffNet and FurryMuck:

is a male lupomorphic, 1,8 m high with shaggy dark greyish fur; a bit overweighted because life in the city had become too easy; old but not wise; grown up with (big) cats, so it happens he forgets his mother tongue and purrs when getting caressed; sometimes he is very hungry he just distinguishes between vegetables and prey...




If you like the Albedo-font above you can download the ZIPed win-TT-version or HQXed Mac-TT-version. It is not PD, but copyrighted by Steven Gallacci. So you can use it but don't change it in any way and don't sell it! (it's freeware)

FurCode:
FCW4ms A C+++ D H+++ M+ P++ R T+++ W* Z Sm++ RLS a+ cn++ d+ e++>+++ f+ h iwf+++ p- sm++

plush code
Pf/>Fcf B++ !BB C+ E I M- MM- N O Sp Sf Tm+su f++ ma+

sinclair Computers: of course they are of no real importance today. But my first computer was a ZX81 and I grow up with the Spectrum. So I stuck with them. I'm a member of Spectrum Profi Club SPC. Have a look at planet sinclair for lots of infos. I build a Spectrum myself on ECB but with the original ULA. I read the newsgroup comp.sys.sinclair. Today I use the Z80-Emulator from Gerton Lunter; have a look at planet sinclair for the newest version. Mostly to play Elite or some others of the great old games. But i like the newer Frontier on my PC, too. (not so much the First Encounter, which makes too much trouble technically: 6 bugfixes before just running is too much, I think.

HAM-Radio; call DD3AH, member of Deutscher Amateur Radio Club DARC in DOK P34, OV Albstadt. Very little QRV the last years: too much other interests and very bad antenna-possibilitys... I own a Kenwood TS700G, a 70cm Transverter and two 2m-Handys. My locator is JN48MF. The highlight of my HAM-activities is a 2m-swiss-quad that I used the time I lived at my parents flat. I didn't found a description so I constructed it myself... Its quite simple, so don't ask me for details. Maybe I will make some photos some time. With 10W it made some 100km so it can't be too bad :-)

SWL: listening to broadcast- stations all over the world; especially on short-wave. I'm a member of Assoziation Deutschsprachiger DXer. I owned a Siemens RK 670 and sold it to a friend that used it while traveling in Europe. I experiment with magnetic and active antennas. My current receiver is a WinRadio, a small black box attached to any computer; very cool.

astronomy: I am fascinated about the sky, the stars and everything. I own a 900mm mirror telescope and watch every now end then when weather and time allows. Read my little introducing article about understanding eclipses in german
biking: After someone has stolen my ATB, a bit tuned '92er Giant Expedition, better lights, bullhorn-handles and a improved lowest gear (28:32 instead of 30:30); and after I used a very simple bike for some time I bought a new one: KTM Sorento S. After I used it for some km it seems to be a nice bike. Missing are: rear shift protection, flask holder and low-rider mountings. The tyres could be better I think. I'm member of Allgemeiner Deutscher Fahrradclub ADFC.

model railroading was one of my big hobbies in my early days. More interested in wiring than in modeling this hobby lead to my electronic hobby and the models are currently boxed in cubboards. I plan to show them in a showcase soon again.
traveling: In the past mostly and still from time to time by train. But these days mostly with my car. Since 05/2003 I own a Golf 4 Variant TDI Edition from 07/2000 coloured in blue. Some nice cool gimmicks like ESP and aux-heater make it comfortable. Low consumption makes it affordable to visit friends as I like. Longest trips I made myself were to Austria near the Slovenian border with my last car and to Czech somewhat south of Prag and Netherlands near Amsterdam with the current one. Other trips were to Greece, France and Sweden. I never left Europe. No plans to change that for the moment. There is still enough to visit in Good Old Europe :-)
cats and dogs; Unfortunately my rooms are to small to keep one myself. But I enjoy spending time with animals whenever I get a chance.
plants; I have some plants in my flat. I like to see them grow. Its nice to have different shades of natural green around me. But more beautiful they are in the nature.
cooking and eating: I make a good chili. Maybe you will find a receipe here some time. Here you find some recipies of stuff I tried myself.
meditation: to relax and find my "inner peace" I practise autogenic training. My medic explained it to me and trained me. It is an easy method to find calmness after getting stressed. Its way more effective than getting a nap or - god forbid - using drugs for that purpose.
Science Fiction: Star Wars, Star Trek, Galactica: I enjoy them all. Furtheron I read stories from Douglas Adams, James P. Hogan, Samuel R.Delany, Robert A. Heinlein and John Brunner. I like Counterfeit World. Behind the link you find "linking" information because this novell is well known by several names and that confuses me so I made this little "sticky note" to support my brain :-) . My current personal highlight is Helge Kautz: Nopileus. Its his third book. Wonderfull strange ideas make it entertaining to read (in german).
dark, sometimes tasteless, humor: although I like animals and I feel furry I can laugh about books like miasma blues or even flattened fauna. I have no problems with talking about the details of examination or bad accidents while eating in the Mensa. Not so tasteless is my collection of Why did the chicken cross the road? jokes, "what if ... would build toasters" jokes and I am ... of Borg-jokes
music: lots of it, almost all the time I listen to a music channel on TV, an audio-stream from THE net or a CD. What types of music, you ask? Hm... lots of types ;-) there are some types I really don't like, for example opera. I am not a fan of too complicated voices. Therefor just listening to a musical is not my favourite as well (apart from some exceptions like 'cats: moonlight'). I definitly like electronic music. Kraftwerk is a all-time favourite. One of my newer CDs is from Linkin Park. Thats the right music while driving a car ;-)
movies: cool action with some fun; sometimes just fun is ok, sometimes just action will do. 5th element, the matrix, dogma, alien, akira, hunt for red october, fight club... this list might give you an idea of my taste; see also the SF section above
shoping: I like straying through shops, look whats new and if money allows buy new toys and gadgets. list of prefered shops
friends, last not least. Although I love my loneliness and I need my privacy to find my peace I search for the company of my friends as well. Exchanging ideas and thoughts, making experiences together and having a good time is the other part of the life of this lonesome wolf.
The background of this page is a part of "Companions" (the original is a full-contrast watercolor of 20" x 28") from the artist Kayomi Harai. Other pics from her can be found at the ArtyCat-pages