! Thank you for viewing the Bunny Cult Homepage source. We hope you find it as interesting as the actual pages. For the record. All Bitmaps are the property of someone or other, so I'd pretty much ask before you take any of them (at least from these pages). PRiMaL will happily draw you what you want for cash, and Melanie will write some interesting novellas for you also if the pay is good :) As for me? Well I can do a whole range of things, not just set up web pages, if your looking for a jack of all trades as it were in computers then give us a shout. ---!>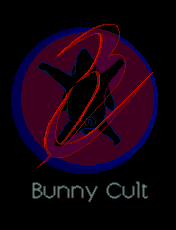 Assume Netscape Enhanced for all pages
WELCOME TO THE BUNNY CULT'S
HOMEPAGE
<!BLOCKQUOTE>So! what can we offer you? The bunny cult is here to teach you the more interesting aspects of those cute little Lagomorphs.
Below you will find a list of options which you can view at your leisure.
As with all web pages this site is constantly under construction. Please forgive us if you find something that does not work. Any queries or compliments can be directed to the webmaster at jodianddave@yahoo.com.


<!BLOCKQUOTE>

An Overview of the Bunny Cult


Membership into the Bunny Cult


Sign the Bunny Cult's guest book


View the Bunny Cult's Guest Book Part 1 and Part 2


<!A HREF="add.html" Try our New Bunny Browser! /A>Digital Postcard


Bette's Clinic


The Virtual Bunny Zone


Members List


Members Only Section


Live Bunny Chat!


Previous antics

Tales from Within, now considered one of the sacred works.
<!/BLOCKQUOTE>We hope your stay here will be an enjoyable one and please call again soon!<!/BLOCKQUOTE><!CENTER>
---




Credits
All other contributions listed with pages.
| | |
| --- | --- |
| Last edited on: | Jan 1st, 2000 |
| Created on: | 4th Jan 96 |
In no way is the Bunny Cult affiliated with any of the Rabbit/Bunny related Religion/Mythos/Cultures/Magazines shown on our links page.
© Copyright 1996, 1999 The Bunny Cult.